Bangkok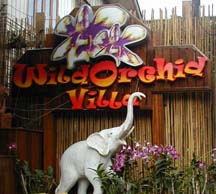 While in Bangkok we stayed at a lovely hostel (Wild Orchid Villa) that had a great open air lobby where you could order a Thailand shake (think smoothie) - a tasty treat when you are hot and thirsty. And air temperature in Bangkok is definitely HOT!
Our hotel was near by a wat (temple) where I freed several birds from a cage for good karma. It was also close to the happening street of Khoason, where, at the night market, you could buy much more than you could carry. There was also a massage place next door, where I experienced a foot massage. Yes, they do really bend your toes back and pull your toes until they pop. The street food was wonderful. Fresh fruit for breakfast, and pad Thai with chicken or shrimp for lunch or dinner, all enjoyed while relaxing at a street side table and people watching.
The first day in Bangkok we toured the Grand Palace and other spectacular wats (temples). We also spent time touring Wat Pho which is the oldest and largest wat in Bangkok. It contains the largest collection of Buddhas including the famous reclining Buddha.

Throughout Thailand, many Buddhas are displayed covered in gold leaf. Gifts/money are placed by the buddha and incense is burned and placed by the Buddha also. Sometimes robes are placed on the Buddhas, and are changed for the season.
Ayuthaya


One day we took a tour of the ancient city of Ayuthaya. We went there by bus and traveled about an hour outside of Bangkok. The city dated from 1300's and they used red brick covered by stucco for their structures which could be seen in various stages of degradation. In the afternoon we went to another site where the current queen had recently built a shrine.

We climbed to the top level and took in a good view of the nearby ancient city. We toured many ruins this day. At one we ran into a local Thai gentleman who talked to us about his culture and told us a bit about the monks and the fact that they like to practice their English. So after that, whenever I saw a monk, I would say "hello".
Chiang Mai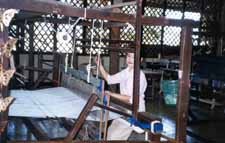 One evening we boarded the overnight bus and rode 12 hours to the city of Chiang Mai, which is in northern Thailand in the mountains. This is a quaint moated city with a surrounding wall, some of which can still be seen. It is at the same time a modern city and has lots of classes on Thai cooking, massage, yoga, etc. At night there is a huge market that has everything you could possibly want to buy. Additionally, the city has several factories: silk, umbrella, and a gem store. I visited all three and took away samples. At the umbrella factory I was personally shown around by a Thai woman who was my age and a single parent with with a daughter in college. Her English was excellent and we instantly bonded for a brief period of time. I think we both left with a feeling that our different cultures had as much in common as they were diverse.
Elephant Ride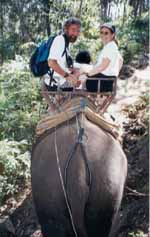 While in Chaing Mai we went on an elephant ride on a mountain trail. Each elephant had a trainer that rode on the elephants shoulders. There were platforms to get on and off. There were also tribe people along the way who would sell you bananas to feed to your elephant.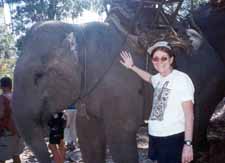 After the elephant ride we hiked the trail on foot to arrive at a hill tribe village. We visited with them for a little while and saw how they made their huts. There were about 12 tourists on this trek and we became friends with a young couple from Holland: Esther and Martin. Perhaps we will go visit them in their country sometime, or host them for a visit in the USA.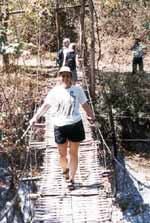 Then we hiked back to where we had started, crossing this swinging bridge along the way. We had a tasty lunch at a local roadside restaurant.

Bamboo Raft Ride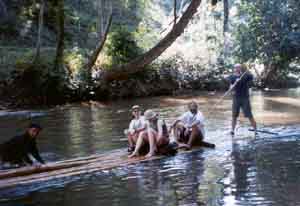 After lunch, we continued the trek by water on a bamboo raft. It was very long and narrow, about 25 x 4 feet. We rode with our new friends Esther and Martin.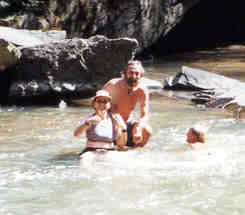 After rafting we took another short hike to a waterfall. We took a short swim in the waters at the bottom of the falls. The air temperature in Chinag Mai is generally cooler than Bangkok, but it is still warm and the water felt good.
After a whirl wind two-day stay in Chiang Mai, we took the night train back to Bangkok. The train was a little slower than the bus, but then it did have beds.
Ko Tarutao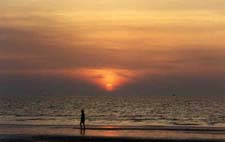 We spent the next day in Bangkok, getting organized to head to the beaches for the remainder of our stay. We continued traveling south for the next day and half using the night train and a day bus to arrive at our destination just a few kilometers from the Malaysian border. We arrived very tired, in the port city of Pak Bara, where we spent the next night in a cute newly-built cement bungalow.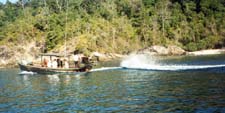 The next morning we took a boat to Ko Tarutao, the island where Survivor Thailand was filmed last year. The island is part of a national park, so it was not very developed, however there was only one place to stay and eat which was more expensive and less pleasant than other places we had been.
Crocodile Cave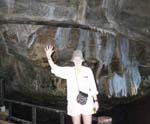 While on the island we took an excursion to Crocodile Cave, which no longer has any crocodiles. We rode to the entrance of the cave in a longtail boat and saw monkeys in the trees along the way.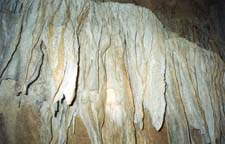 Once at the cave we climbed up and down wooden scaffolding, to the level of the water, then across some decking to a raft pulled by rope to get us the actual beginning of the cave trail. We then walked through the cave for about an hour, looking at various glittering formations.
Ko Lipe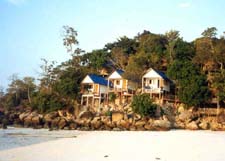 We decided to move on, to experience another island (Ko), and selected to Ko Lipe, a four hour boat ride away. It was a smaller, private island, which had several sets of bungalows on/near the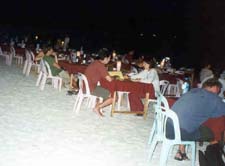 beach and lots of places to eat, including a cool beach bar-b-que at night that featured fresh seafood.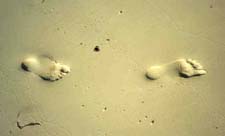 There were two main beachs on either side of the island. The beach we were on took about twenty minutes to stroll down, which we did often during our two days stay.
Krabi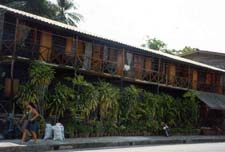 Next, we headed for the town of Krabi, which is on the mainland across from the world famous beach destination of Phuket.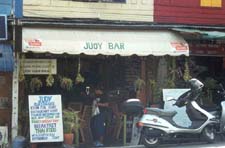 We decide Krabi had less tourists so we just stayed there. The town was very nice and just the right size for me.
Scuba Diving
The town of Krabi had many outfitters for scuba diving. We decided on one owned by a man from Denmark. We went out for a two-tank dive about an hour or so off shore. We took a speed boat to a very small rock island (and there are many in this area) and took a dive around the island. There were many beautiful fish (2 kinds of clown fish, angel fish) velvety clams, which were almost as large as the giant clams I had seen in Australia on the Great Barrier Reef. The coral was very colorful and plentiful.
Tiger Cave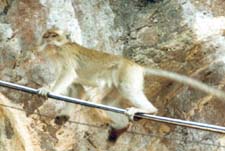 Outside of Krabi is a religious area known as Tiger Cave, where there is a monastery. We toured it and saw many Buddhas. We also saw many female monks here; they wear white robes (men wear orange/gold robes) and their heads are shaved as are the men's.

There were many monkeys in this area that were not afraid of people, so it was easy to get close-up photos.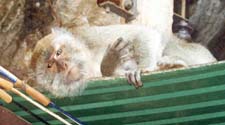 There were many trails to hike in the surrounding area, so that is what Chuck and I did. There was a hike to the top of the mountain, which is said to have a spectacular view. We started to the climb the 1237 steps to the stop, but the heat of the day caused us to turn back.
Last night in Thailand
Our last night in Bangkok was spectacular. Our agent at the hotel recommended a local restaurant that had a dining area on a second story deck overlooking the Nae Nam Chao Phraya River which is the central transportation route in Bangkok. The food was delicious and the view awesome. We could view the Grand Palace and many other wats and sites all lit up after dark, all while boats cruised by.
I thoroughly enjoyed my visit in Thailand and getting to meet Thai people and experience their culture. I enjoyed the lovely orchids everywhere.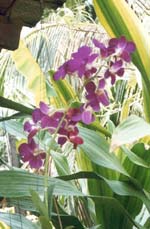 The Thai cuisine was scrumptious! Traveling by tuk-tuk (a motorized open taxi) was exciting, and loud! The traffic was crazy but I only saw one accident as drivers look out for each other, while weaving in and out. Crossing the street can be a challenge, but doable, once you get the hang of it and remember that people drive on the opposite side of the street from back home.

I look forward to returning to Thailand some day.
- Judi

Return to home page