From the Mountains to the Low Country was about a 225 mi drive.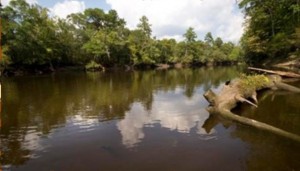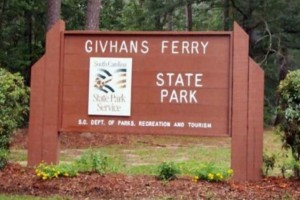 We headed to Givhans Ferry State Park. It is on the Endisto River and we had hoped to canoe there. With all the rain the blackwater river was very fast flowing. We were not sure how scenic it would be or if we could set up a shuttle so we decided to do a 6 mile bike ride in the area. It was Peggy's first bike ride in a year.
The camp was full on the weekend but when we got there on Sunday afternoon, it was empty. We did a short hike and ran into lots of mosquitos, after we put on Off they all went away. We stayed for 2 nights and got a lot of rest.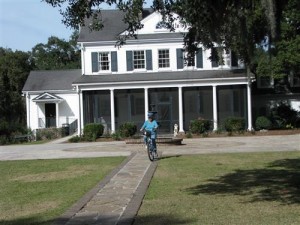 I found out we had a weak cell phone signal signal but boy it worked great tethered to the computer to get me the internet.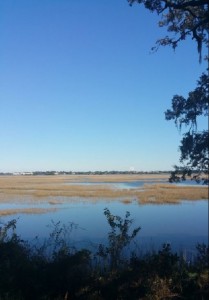 On Tuesday we drove 30 miles into Charleston. We did a bike ride around the original colony of Charleston at Charles Towne Landing State Historic Site.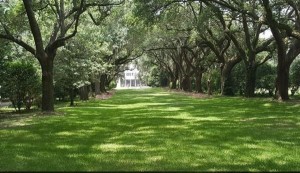 We really liked the nice park. They have a series of paved walking/biking paths. Animals native to Charleston in 1670 can be found in the Animal Forest. They have lots of signs with explanations of how this first settlement managed.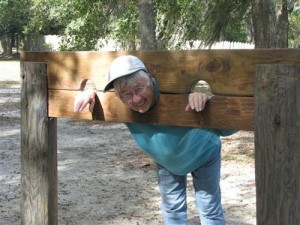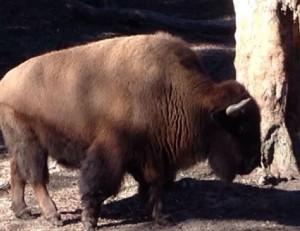 Peggy wasn't a good girl so she got locked up.
The trails were probably only about 3 miles long but it was a lot more fun riding our bikes. There were lots of schools on field trips. The Adventure is a replica trading vessel docked at Charles Towne Landing.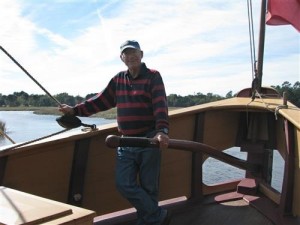 Several stops had costumed rangers explaining how the colony made friends with the local Indians but introduced African slaves to help them till their farms.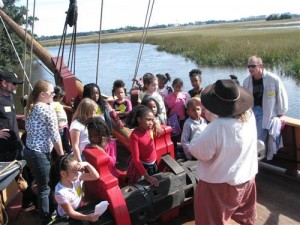 It was beautiful warm day, but tomorrow there is a slight chance of rain and heavy rain is forecast for Thursday.
We decided to camp at a new Wal-Mart just 10 miles outside the historic downtown. Tomorrow we will drive the RV into the city and hopefully find a parking lot near where we plan to take a walking tour of historic Charleston with 7th generation native Michael Trouche. We also hope to visit the historic Charleston city market which is over 210 years old.
If all goes as planned we should be staying near Savannah on Wednesday night and then drive to Jekyll Island on Thursday.