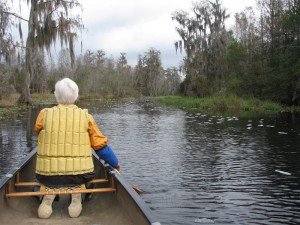 It 's only a 130 mile drive from Jekyll Island to Stephen Foster State Park in the Okefenokee Wildlife Refuge.

The park is in GA but we had to drive through about 20 miles of Florida to get there. They had forecast rain with a cold front passing through but it only drizzled a little on the drive over. So when the sun came out after lunch we decided to take our canoe out for a short paddle to Billy's Island. About a 2 mile paddle each way and a nice hike around an abandoned town.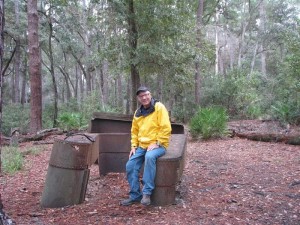 Since it was cool there were no alligators sunning themselves, they preferred the warm water of the swamp. But plenty of Egrets and Heron with an occasional Hawk and Vulture.
Since we got here on a Sunday the campground was almost empty. Peggy and I haven't canoed since our Michigan trip 3 years ago, but she was as strong as ever and I had to paddle fast to keep up with her stroke rate.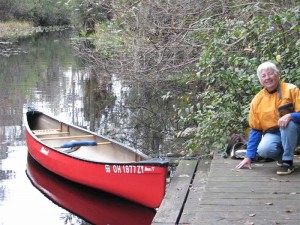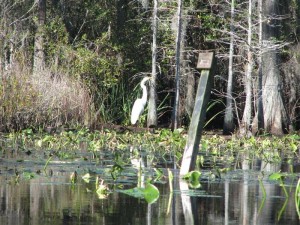 We are able to get on the internet here tethering my smart phone to the computer but phone calls barely work. Early Monday morning the temperatures were down to 39oF, so we waited until after lunch to venture out. By then it had warmed to the low 50's and very sunny.

We decided to do an 8 mile round trip paddle to Minnie's Lake. We took our time and enjoyed the solitude and all the birds.

Today we spotted a couple of small alligators in the water. It was still too cold for them to come up on the shore or logs like the turtles.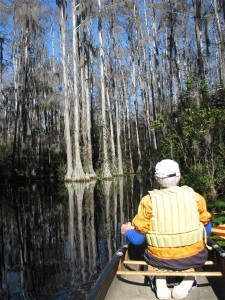 The water trail going north is all big Cyprus trees and the reflections of the trees and knees in the water was very beautiful.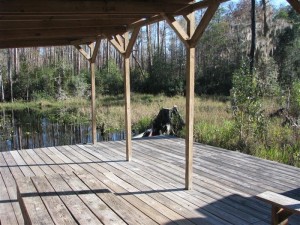 By the time we made our way to the platform that campers use in the swamp Peggy noticed that if we go as slow as we did getting here it would be dark before we got back. The sun sets about 5:15 PM and it gets dark instantly.

So we jumped back into the canoe and went into full racing mode. We made it back in half the time finishing up at 4 PM. Maybe a little sorer for the effort. But we sure weren't cold although the high today had only reached 53oF. So far there have been no mosquitoes.