My Very First Grand Canyon Trip
By Judi Cleary
It was Tuesday, August 7 and I was about to embark in my first trip down the Colorado River through the Grand Canyon. We arrived at the Lees Ferry Put-in, just downstream of the Glen Canyon Dam. We inflated the three support rafts and rigged them to prepare for an early departure the next day. Steve, Rich and Terry (his debut) were the oarsmen. Chuck and I paddled our shredder, which quickly felt tiny amidst the huge motor rigs. The rest of the group were in kayaks. For half of the group, this was our first trip down, but the other half had considerable experience on this river. It was the seventh trip for Chuck. In 18 days, we would paddle 226 miles as we joined Steve in his "mid-life crisis" trip. During the trip we had dam releases of 17,000cfs daily and 9,000 on Sunday.
Standing: Tim Taubert, Terry Markoff, Steve Ingalls Cliff Wire, Bill Miller, Holly Corrigan, Casey Kaskey, Mark Poljak, Erin Bethea, Chuck Singer
Sitting: Pam Poljak, Sabine Iben, Judi Cleary, Casey Brown, Anne Kmieck, Rich Dabal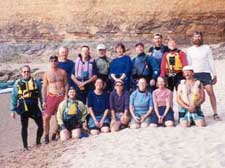 Group shot at Redwall Cavern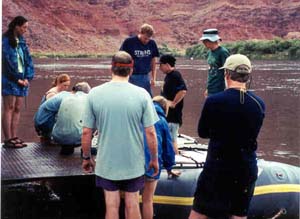 Rigging the rafts
Actually my very first trip into the Grand Canyon had taken place six weeks earlier when Chuck and I hiked down to Phantom Ranch from the South Rim. It took us just over four hours (and eight hours to get back up the next day) and we were greeted with the sight of beautiful clear green water flowing in the Colorado. But as I was to learn on this trip, the color of the Colorado is very fickle, and the clear green water turned to mud on day two of our trip.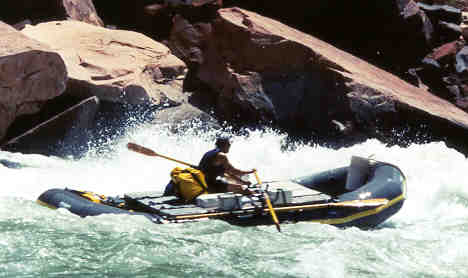 Terry at the oars - Note the green water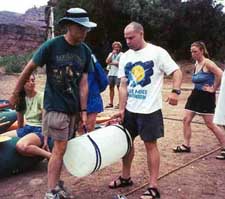 Casey Kaskey's white shirt would never be the same after the trip.
Mark Poljak experimented with a new way to deal with drinking water by bringing along six 15 gallon bottles which greatly minimized the amount of water we had to pump during the trip.
Day 1: We awoke early to the sound of rain on the tent fly. If anyone tells you that "everything dries very quickly" in the Grand Canyon, they haven't been here during monsoon season. It rained almost every day of the trip except for 2 days in the middle and the last three days. The wind would generally kick up in last afternoon followed by gusty rains. One day, as I and others were holding the tarp to shelter the cooks, we got pelted on the legs with hail! But we did get to see some spectacular red and brown waterfalls as a result of side streams flashing.

The ranger checked us through "painlessly", obviously sensing the amount of expertise contained within our group. He showed us an informative Power Point presentation and we were on our way at about 11:30. We saw our first Big Horn Sheep today. There was also a graceful Great Blue Heron escorting us. He would stay with us for most of the trip (or did he trade off with some of his buddies?) We camped that night at Badger Creek. In the morning, Steve and Bill reported seeing a beaver. So that was what made those drag marks all over the sand. I thought it was the previous group dragging their dry (Bill's) bags.

Day 2: We camped at North Canyon, where we hiked up the canyon. By the time we returned from the hike, the beautiful green water had given way to muddy brown, which it remainded throughout the trip.

Day 3: Today we paddled the roaring twenties - a stretch of river (miles 20-29) with several medium size rapids. Everyone did very well. I was beginning to get a sense of what BIG water was like. We stopped and hiked Silver Grotto at Shinumo Wash. As many hikes on the CG, this was more of a rock climbing experience than a hike. It involved scrambling across an exposed rock face, grabing a dangling rope and lowering oneself 30-40 feet. About half the group did the entire hike. We camped at Stanton's Cave which we hiked to the next morning. As I was packing up the tent, I found a tiny scorpion on Chuck's thermarest pad. He said he had felt a sharp prick the night before but thought nothing of it. The bite swelled up for about a week and then gradually disappeared. He's a tough guy!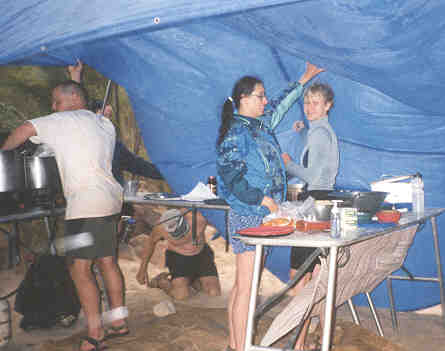 Preparing dinner - what is Bill looking for under there? Ah, red ants!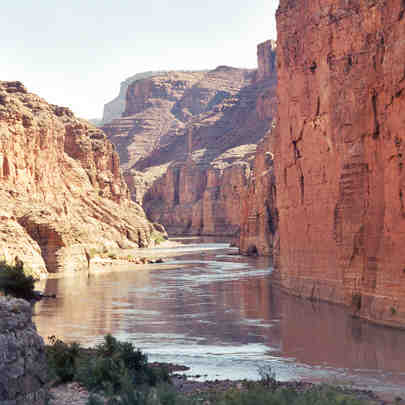 Grand Canyon splendor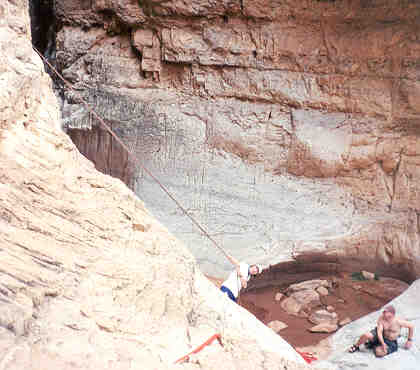 Silver Grotto Hike


Day 4: We stopped at Vasey's Paradise for water, and then at Redwall Cavern where commercial raft trips were playing horse shoes and frizbee. Next was Nautiloid Canyon (more rock climbing and exposed traversals), which had 2-3 foot nautiloids (ancient shell-bearing cephalopods) in the rock - very interesting. This night we camped at Buck Farm Canyon. Everyone took showers. Mark Poljak had brought along a battery/propane heating system that produced hot showers!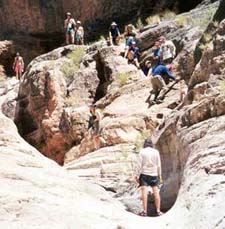 Group hike at Nautiloid Canyon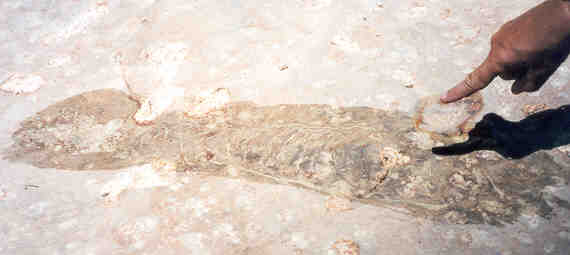 Nautiloids were 2-3 feet long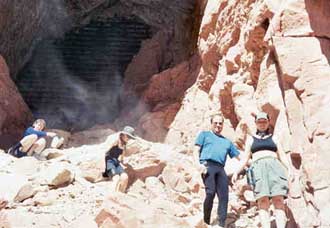 Stanton's Cave



Day 5: We hiked at Saddle Canyon and camped at Nankoweap. More rain with dinner.

Day 6: We hiked up to see the graineries used by the Anasazi Indians at Nankoweap in the am, then ran Kwagunt Rapid, but were distracted from scouting by a condor soaring above. The park currently has 24 condors that they introduced to the park over the past few years. After lunch we passed by the confluence of the Little Colorado, which added even more brown mud to the river water. We camped at Carbon Creek this night, trying desperately to dry out our wet stuff.

Day 7: We packed up our wet things and headed down the river. We stopped to look at the pot shards (more remnants of the Anasazi Indians) at Unkar. We camped above Hance.




Day 8: Today we got into some of the bigger rapids. In the morning it was Hance, Sockdolager and Grapevine. We received a thorough drenching in the shredder but kept it upright. Lunch found us at Phantom Ranch, and a quick trip to the ranch and back (about a half mile up the side canyon). The Prickley Pear was in full bloom. After lunch we tackled Horn Creek. I couldn't believe it when we saw the kayakers heading right for the center of the rooster tail, but they all blasted through to a somewhat calmer ride on the other side. Chuck and I chose a route slightly right of the kayak route and then moved left. We avoided the first violent waves at the top, but got sucked into the edge of the second batch. With a much appreciated forward brace from Chuck, we made it through.



Horn Creek Photos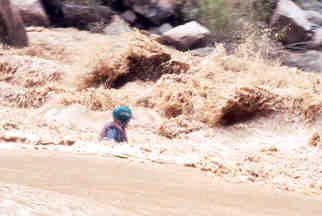 Cliff Wire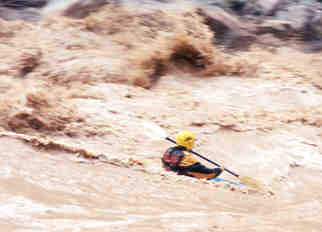 Sabine Iben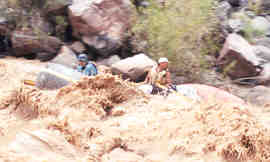 Holly Corrigan and Rich Dabal



Day 9: Today was a huge day for rapid running. Right off the bat we had Granite, Hermit and Crystal. Chuck and I followed the kayak route down the right tongue heading left at the end of the tongue. I was echoing Casey Brown's pleas to Pam as they progressed down the rapid - "Pam, a little more left?, please, a little more left!" As it says in the guide notes, moving left is very difficult. It was a very wild ride for all, and my heart didn't calm down for several minutes after making it to the bottom, right side up. What am I doing running this huge water? (well, actually, I was having great fun!) The kayakers did exceedingly well on this rapid.

The rafts ran last and not many of us witnessed Terry's dramatic raft flip. Amazingly he climbed up on top of the upside-down raft and rode it to the left eddy at the bottom. It happened so fast that Pam and Mark were both yelling at Terry to not go into the right eddy (named "forever eddy" for obvious reasons) not realizing he had flipped. Terry responed with a shoulder shrug having no means to steer the raft. The kayaks were able to push the raft over to a large rock at the edge of the river, and within 30-40 minutes the raft was righted using flip lines and everyone's muscle power. Most everything was still attached and minimal water was taken on, so we were on our way soon afterwards.



Next came Hermit - the ultimate wave train. Chuck and I ran the "big ride on the left" route. As we entered just left of the HUGE 5thwave the adjacent wave crest that we were rapidly approaching was so far above my head I could not see it. The people on shore said we stalled out for a bit at the crest, but I picked up quickly on leaning forward in moments such as this, and again we made it through. We rode out the remainder of the wave train. What a wild ride! No major problems and a lot of fun was had here.

Running Crystal (a 10 rated rapid) was a non-event after all the morning's excitement. We all ran the rapid on the right, circumventing the big hole at the top.



Day 10: On this warm and clear day, we ran into another private trip which was from New Zealand and Scotland. We enjoyed a chat with them at Elves Chasm, where we did the jump thing into the pool. My first night sleeping under the stars (no rain tonight) and a mouse crawled across my feet - Eeeek!

Day 11: Today we ran Specter and Deubendorf rapids.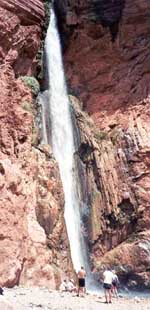 Deer Creek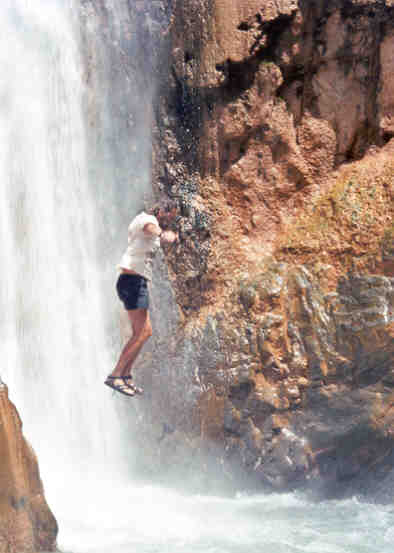 Chuck jumps!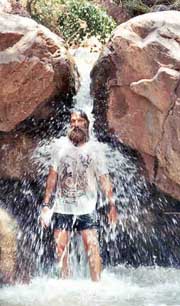 Power shower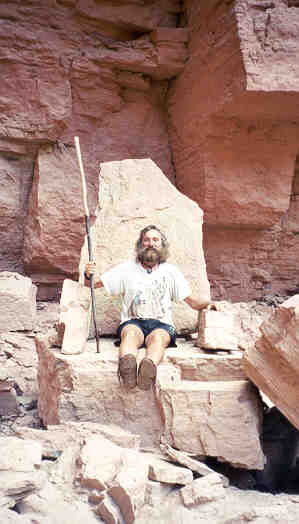 King Chuck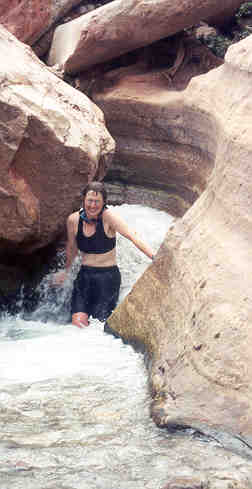 Holly in whirlpool

Day 12: A short 2-mile day assured a camp site across from Deer Creek. We did the awesome hike, crossed the narrow ledge, stood under the brisk shower, lazed in the chilly whirlpool, and sat in the giant chairs.

Day 13: Hiked Matkatamiba - fantastic! Except for a small assist from Mark, I had no trouble with the climb, as I had at Silver Grotto. After running Upset Rapid (this rapid has more meaning for rafts), we camped at Ledges. Chuck and I took the steep hike up to the Pent-house suite; the stars that night were breathtaking. A commercial trip (OARS) camped just upstream at Upper Ledges. After dark, a couple of the guides showed up with wine and beer to share.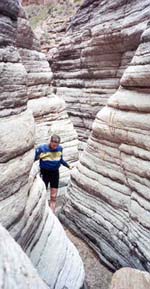 Mark at Matkatamiba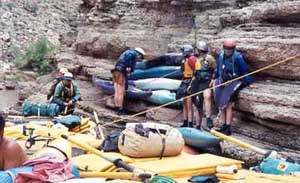 I know we can fit another boat on top...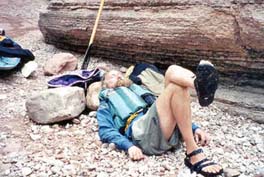 I think I'll just take a little nap here on these rocks.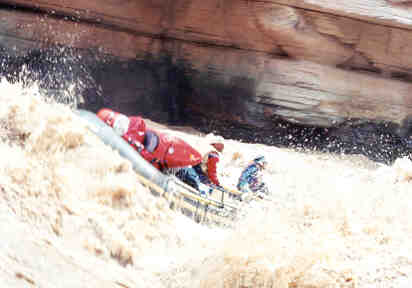 Holly and Rich at Upset Rapid
Tim Taubert at Upset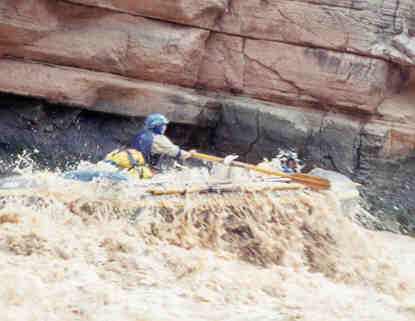 Terry at the oars


Day 14: We arrived at Havasu mid morning, but the hike to Beaver Falls took a whole lot longer than anticipated and most of us did not return for lunch until 4pm. So we had lunch on the rafts which were tied off to the canyon wall. It was a long day.



Day 15: This was the BIG Day - LAVA. The rafts made history by scouting for only 30 minutes (Steve was very apologetic afterwards; I think this was a record for him). They arrived to scout just as another trip was running it. So they saw the line and it was theirs (ie, our rafts did great!) Several of the kayakers ran it, including Casey Brown. With barely two years of paddling under her deck, Casey blasted the rapid (as she had throughout the trip). There was quite a bit of gleeful screaming in the eddy below afterwards.
In an effort to keep our flip-less record in tact (or was it cold feet?) I requested that the shredder team walk this one.

Day 16: We saw a pair of kingfishers, and several velvet ants (they have white fluff on their backs). Today the seven women took one raft and the Shredder and enjoyed taking turns at the oars and basking in the sun. We camped at Parashant and Chuck made his famous cheese bread in a dutch oven - yum yum. At night Rich gave us an astronomy lesson and when the moon slipped below a north Canyon peak, we could see a brilliant moon shadow on the south wall - exquisite!

Day 17: Another condor sighting in the morning. We paddled the last three major rapids (Kolb, 209 and 217). We arrived at camp (mile 222) by noon and spent the rest of the day trying to stay cool under the tarp by periodically immersing ourselves in the frigid brown water. We amused ourselves by applying nail polish to our toe nails (a Grand Canyon tradition) donated to us by a passing motor rig, and applying temporary tattoos (provided by Chuck) to various body parts.

Day 18: We were in and out of Diamond Creek take-out in no time. When we stopped at the Snow Cap diner, a gentleman remarked on what fine detail Pam's eagle tattoo had (or was it it's location that intrigued him?)

We all had way too much fun on this trip!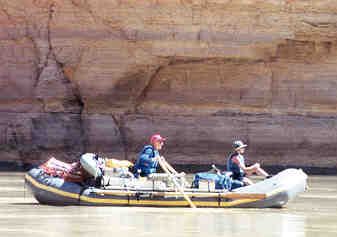 Steve and his navigator Anne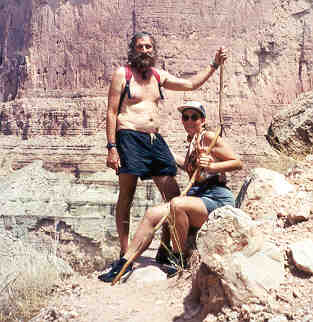 Chuck and Judi take a rest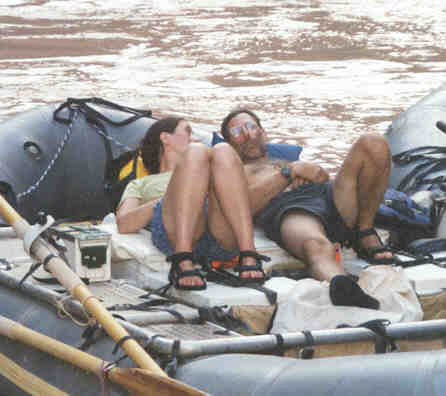 A quiet moment on the raft


Postscript: This was an excellently run trip. Anne divided us into five teams of three to perform daily duties of breakfast, breakfast cleanup, lunch, dinner and dinner cleanup. We all alternated through Groover duty. We rarely had to pump water and we had hot showers almost every night. The group was excellent too. Everyone helped out when needed and there were a few characters we will never forget. Such as Rich and his "last call for the groover!" Tim's wry wit "the dish cleaning lines are now open - two lines, no waiting". Anne, our resident artist. Chuck our trail (as well as river) guide. Terry, the trip barker, who could scam any commercial trip out of at least one pop or beer; and his long list of lovely assistants. Pam, chief food planner, and Casey Brown's river running mentor. Mark, chief water engineer and erp (expendable river probe). Steve, our stoic permitee (who now has glittery toe nails; just ask him).
Thanks all, for a trip I will never forget!
Return to Judi's home page