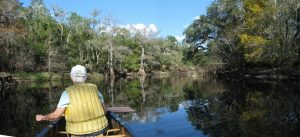 We just arrived at the Silver Lake campground complex and have again decided to stay in Cypress Glen Campground. We didn't get the exact campsite that we wanted but we got the one next to it and it is only a few yards further from the canoe launch area.
As I told about this in older blogs there are several reasons to stop at the campground. It's easy to get to, right off I-75. Not many people know about it, since it is a State Forest and not widely advertised and they don't take reservations. It has 30/50 amp power & water at two of the 3 campgrounds. It is on a lake that is really a wide spot on the Withlacoochee South river. You can paddle up and down the river from here and if you want to just paddle downstream, you can arrange a shuttle at a canoe livery or just spot your vehicle at the take-out and bike, on the parallel bike trail, back to the camp to start your trip.
And for bicyclists, the camp is only 1 mile off the the 46 mile long Withlacoochee State Trail, one of the longest paved bike trails in FL.
We are starting to think about home and the route we may take North. Our plan is to stay here for five nights and then, on Saturday, go visit Helen & Paul who live just a few miles away in Inverness. We were going to visit them in December but it didn't work out. We met them in Mexico where we all camped at Xpu-Ha in 2013-14.
We noticed that the campsites at Juniper Springs in Ocala National Forest are reserved on most weekends so we plan to arrive on Sunday morning when the weekenders leave.
We skipped the Okefenokee this year when heading south so we hope to paddle there as we head more north in early March. Our plan is to enjoy the back roads of Florida and Georgia and avoid the interstate highways as much as possible.