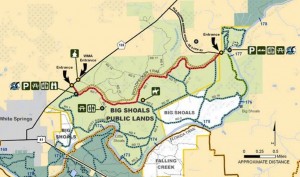 The Okefenokee is in GA only a few miles from the FL border. We loaded up our canoe and headed south for the Osceola National Forest about 40 miles due south. On our way we decided to do an 8 mile bike ride in Big Shoals State Park near White Springs.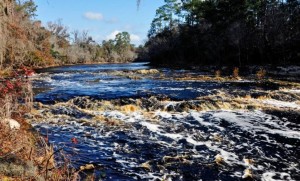 The park has a nice paved bike trail, called the Woodpecker Trail, which goes from the south entrance up to the Suwannee river near the biggest rapid in FL called Big Shoals. A 1 mile trail along the river takes you to an overlook of the rapid below.
The rapid drops about 9' in a quarter mile over three sharp limestone ledges. They say it's a fun run when the river level is between 55-65' on the USGS gauge. An interesting thing is that you can put-in right here in the park 1 mile above the rapid, then paddle down, run the rapid, walk back on the portage trail and try it again. Then when play time is over you can paddle the slow moving river back to the put-in. But today the water level was only 52' and it looked too low for us to consider taking our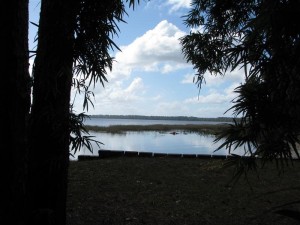 canoe down.
We had some grocery shopping to do in the town of Lake City, FL and then we got to our next campground called Ocean Pond. The round lake is 2 miles in diameter and the campground has three different kind of sites.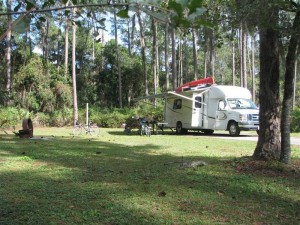 We never had a problem in the past finding a site with electricity but we were here for the long Thanksgiving weekend and all those sites were already taken. We got a nice big site that only had water hook-ups, but at $6 a night it couldn't be beat.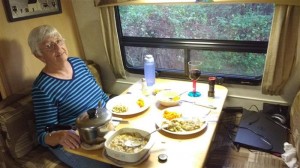 Most popular FL State Parks are 100% reserved on the weekends but here they take no reservations, so it's usually easy to get a campsite at any time.
We had our leftover turkey from our big family dinner before we left on the trip, Read Blog about Family Dinner, but we sure missed the family and also Gene at Tepetapan RV Park in Mexico where we have spent the last 6 Thanksgivings.
On Friday we did a 13 mile bike ride around the lake. There are no trails but if you have a good map you can find local roads, some are dirt and some are paved but they provide a good ride all the way around the lake. Several miles are on the highway leading to the park but we only saw one vehicle so Peggy didn't mind the highway ride.
We are not sure what we plan for Saturday yet but we will leave Sunday morning and head about 35 miles southwest to OLeno State Park, near High Springs, on the disappearing Santa Fe River.