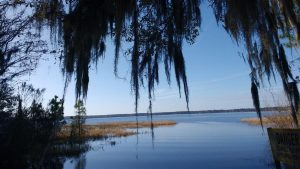 We had a nice no traffic drive on back roads from Juniper Springs up to Ocean Pond campground in the Osceola National Forest. We had hoped to get a campsite with electricity but all were full.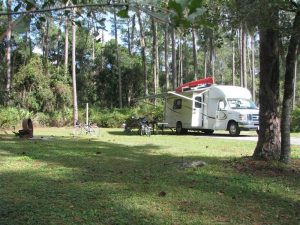 It seems like la lot of campers like to take extended stays here since the cost is only $12/night for seniors. The only available sites had water hookups and were only $6/night.
We hoped with nice sunny skies my solar arrays could keep the batteries charged. However we had rain one morning and too much shade in our campsite to keep fully charged. We had to run the generator a few times to top off the batteries and to run our microwave, waffle iron & toaster. Our TV runs fine from the power inverter and doesn't take that much battery power.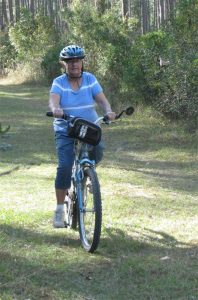 The small lake doesn't interest us enough to take the canoe down from the RV but there are a lot of forest roads in the area for us to bike on.
We took a short ride each day past some of the rustic campgrounds in the forest. The first day was in the 80's but after the rain & cold front came in it barely hit 70o each day.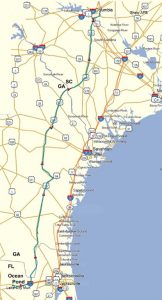 We were going to go up to the Okefenokee swamp and canoe when we left here on Sunday but we decided based on the weather in Cleveland and missing our families, maybe on Monday morning we should just start our drive heading home.
I think we will start on some back roads and stay off the interstate highways, at least until we reach I-77 in Columbia, SC.