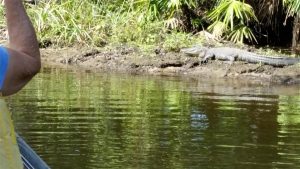 On the last few days of our two weeks at W.P. Franklin we did some more paddling near our campground and up Telegraph Creek again. This time we saw one small gator.
We really liked this campground, too bad it is so hard to get a reservation here. As we left on Sunday morning it started to rain. This was our first real rain since we got to FL in November.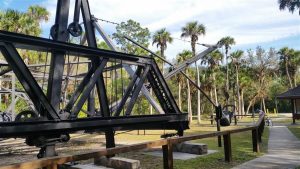 The further south we drove the harder it rained and even after all our shopping at Sam's Club, Aldi's and Walmart it was still raining when we got to the campground. We were able to fill our Propane tank right outside the campground.
This is the actual dredge they used 90 years ago to make a portion of the Tamiami Trail from Marco Island to Miami. The campground has been closed for the past year for remodeling. About the only thing they did was to build a new bathroom. There are too many small campsites without much separation between sites.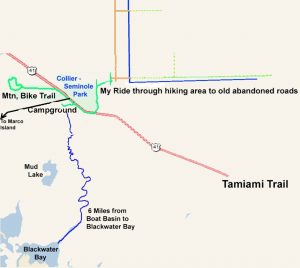 There are 3 things to do here, Canoe/kayaking the Blackwater River, Bicycling and Hiking. So on Monday we tried the 3-1/2 Mountain Bike trail about a mile down the road from the camp. There were no wildlife or birds, it was not difficult but hardly worth a second ride.Then on Tuesday I decided to see if I could find my way into the abandoned planned housing development that campers used to boondock in twenty years ago. I used the maintenance road in big hiking area to find it. There was only 1 mile of pavement. I remembered there were lots of paved interconnecting roads . Now it is a rough gravel road with big depressions in the road filled with water from our recent rain. I explored for about 3 miles and didn't see a soul and then went back to camp since I never told Peggy how far I might go. Of course she was worrying about me.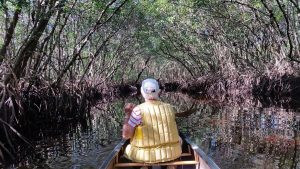 I checked the tide tables and saw that we would be mostly paddling at low tide and there was no chance to go into Mud Lake since there is no way to paddle through unless you are close to High tide,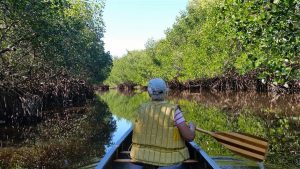 We left at 9 AM on Wednesday so at least the tidal flow would be moving out from the boat launch to the outer bays making our paddle slightly easier.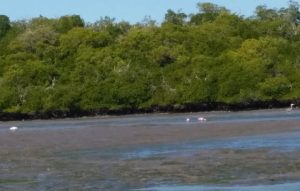 We made good time and Peggy wanted to go all the way out into the big open bay after the narrow mangrove lined river. The bay was at low tide and there were lots of birds including a couple of pink birds we could not identify.
It turned out to be our longest paddle of our trip. We paddled 12 miles and it took 4-1/2 hours. Peggy was tired but not complaining. It was a nice cool sunny day and the early start helped a lot.