We spent New Year's Eve with my son Jeff and his family. Of course Peggy & I decided that 10 PM was a good time to celebrate the new year.
We flew back to Orlando on Frontier airline and it only cost us $148 for a round trip ticket but of course if you want to bring luggage or choose a seat you could spend another $25 each in both directions. Of course since we have a home at each end we don't need to bring anything except my computer and a warm coat.
We had taken Uber to the airport from the KOA storage lot and it cost only $14 for the 9 mile ride. I knew the price would be higher for airport to KOA but was surprised when I got the $37 charge. Last year we took a Holiday Inn bus to a nearby hotel and then called Uber. That only cost $12. We had a short drive to Lakeland, FL and did a lot of grocery shopping and ended up at a Walmart where we decided to spend the night. Our reservations for 3 days at Hillsborough River State Park did not start until tomorrow. We made the reservations that way in case a snowstorm cancelled our flight.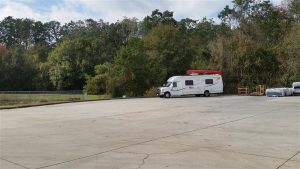 We just left the Cleveland area just in time since the day we left the temperatures plunged into the teens and snow was forecast every day.
The place we found to stay overnight was out of the way and quiet. See top picture. In actuality it was next to the dumpsters and truck turn around to get into the loading docks. But we tucked our little motor home in there and had a nice nights sleep.
We got to our campsite at Hillsborough river where we planned to canoe and bike. I came down with a bad cold that night and rested all day Friday. I feel a little better now so maybe we can paddle tomorrow.