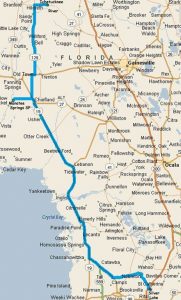 After two nights at Manatee Springs State Park we chose to head south to the  Withlacoochee State Forest campgrounds.
US19 is a fast 4 lane divided highway, a much more pleasant drive than I-75. It is a little slow from Crystal River to Homosassa Springs.
We stopped at a Wal-Mart there and finally caught up with my e-mail and internet.
There are 3 different campgrounds here on Silver Lake. Two have electric & water hookups for only $15 per night if you are over 65 years old.
Florida State Parks only give senior discounts to Florida residents, so it is nice getting a discount at a State Forest.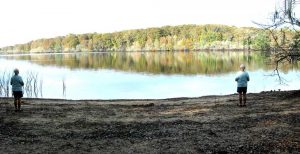 Here is a view of Silver Lake from our campsite at Cypress Glen campground.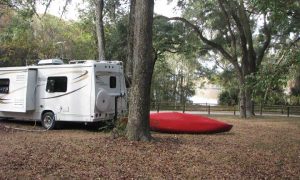 The Silver Lake camp has 23 electric sites and Cypress Glen camp has 34 sites and is a little further from the noisy I-75.
We planned to get here mid-week so we could get a good site. We were startled at the entrance station which had signs posted that all their sites were full, or I mis-read the signs, since very few sites were occupied at either campground. We got the site I was hoping for since it is only 100 yards to the canoe launch spot, the picture above.
After we setup, a cloud came by and dropped a few drops of rain, more light showers may come on Thursday, it sure has been dry and a little warmer than normal so far on the trip.
Besides paddling, the big attraction for us is the 46 mile long Withlacoochee State Trail. It is a beautiful paved trail that is far from any busy roads with lots of wildlife. We are at MP9 right outside the campground and can ride the trail to a shopping center only 5 miles away.