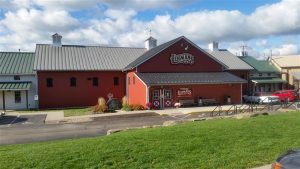 Peggy & I raked leaves and mowed the lawn for the last time on Thursday.  We decided to have another supper with Pam & Joan  and their kids at Fiesta Jalapenos. A fun night to say goodbye to half the family. But I forgot my phone, so no pictures.
We left about 8:15 AM on Friday morning and took a little detour to Ohio Amish Country. Peg has not been down here for a while so we took our time stopped at the famous Lehman's Hardware. Then went over to Ashery Bulk Food store to stock up on candy, nuts and some Swiss cheese. A little craft shopping and by noon we were on our way heading south on I-77.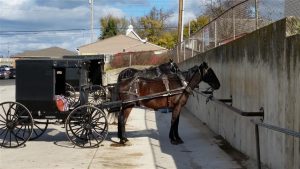 Of course we saw lots of Amish buggies and all the kids at schools along the way.
It was cool but sunny and windy.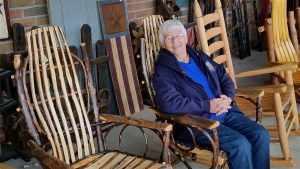 Peggy, checking out the rockers. I was off mine.
Our drive to Beckley, WV was uneventful and we did some food shopping at Sam's Club and had dinner before spending the night in the Super Walmart parking lot. We will gas up in Wytheville and try to get into SC near Charleston on Saturday.