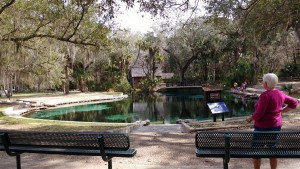 After leaving Silver Lake on Tuesday we went to visit our friends Helen & Paul Tempesta in Inverness, FL. Paul had a nice place for us to camp overnight and Helen cooked a great Lasagna dinner. We really enjoyed their warm hospitality.
We left their place around 7:30 AM with the thought of canoeing on Silver Springs along the way to our next four day stop at Juniper Springs in Ocala National Forest. We did some grocery shopping but then got anxious to get a campsite, so we skipped paddling for today. Whenever we are in Central FL, we try to camp here ever since our first visit 47 years ago. I found some of my old pictures to show how little the spring has changed and how much my family has changed over the years. They still keep this place really nice.
Our first Juniper Springs visit in 1969. Peggy with Pam 2 yrs and Jeff 5 yrs old.
Pam (7), Joan (4) & Jeff (10) swimming in the spring in 1975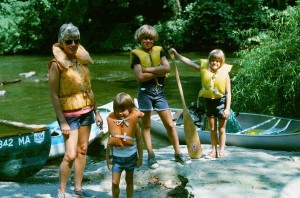 Peggy, Joan, Jeff & Pam canoeing in 1976.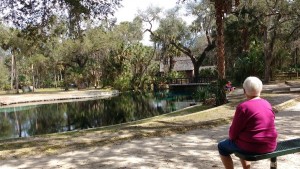 Juniper Springs is a constant 72oF, which is too cold for swimming except on hot days. It is the source of the river we canoed on Thursday.
In the past I did my own bike shuttle but FL40 & US19 now have a lot of very fast traffic and the park canoe concession does shuttles for only $10. You first drop off your canoe at the put-in. You then pay and drive your vehicle at 8:30, 9:30, 10:30 or 11:30AM, they follow your there and bring you back to the put-in to start your trip. They have an option to bring your canoe and people back without a shuttle, but you must be at the take-out at specific times and the cost is $10 per boat plus $10 per person. I liked having the RV at the take-out when we finished.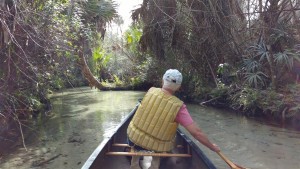 Juniper Run is 7 miles long and when it starts at the spring is no wider than a canoe and it moves with a good current through a very isolated area. Other springs along the way add more flow and the last two miles the river broadens to a meandering swamp where gators and large birds are normally abundant.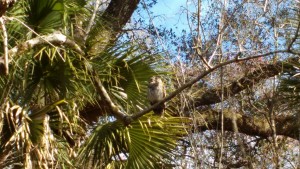 This year we saw dozens of large turtles who had little fear of boaters. We saw this great big Barred Owl right at the start. but only one small gator.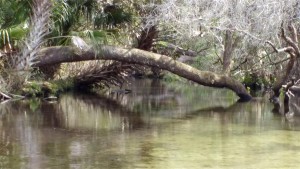 There are a lot of low hanging trees and shallow logs in the river which gives you a real workout maneuvering around all the obstacles.
We passed at least 12 other canoes and kayaks along the way. I'd hate to see what the weekend river traffic would be like when all the rental canoes are on the river. They do not recommend that novice paddlers even attempt the river and I sure agree. The river is very wild and scenic the entire way. See a typical view below.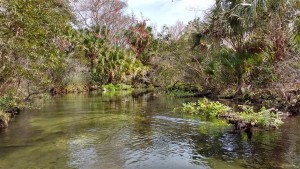 It took us about 2-1/2 hours to paddle the river without any rest stops. I would guess it is normally a 4 hour trip for most paddlers. Near the end of the run there is actually a little rapid that they say appeared there about 3 years ago.
There is no Wi-Fi or even cell service in the campground. On one of the trails I got a weak phone signal but won't be able to post this story until I can connect again to the internet.