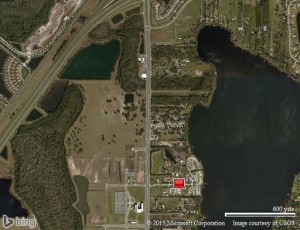 We flew back to Orlando on Spirit Airlines. Our plan to catch the first hotel bus to outside the airport worked fine, but we had to assure them we had hotel  reservations.
We walked in the Holiday Inn and then out another door and walked over to Denny's where I planned to contact Uber for a ride back to the RV.
First thing, I forgot my Uber password. I had to get it reset, then I kept hitting the wrong buttons with my fat fingers until Peggy was ready to kill me. Finally I suceeded after wasting 40 minutes trying to enter my request correctly, in order to catch my 15 minute ride which cost only $12 to get to the Whippoorwill KOA where we had the RV stored for the past 18 days.
We decided that we had enough daylight left to drive west toward our next Florida State Park. But we needed to stop overnight and stock up on groceries first. You can click on the above map and zoom to see more or less detail of where we stored the RV.
We made it down I-4 to Gibsonia where we had dinner at a Steak n' Shake shopped at Aldi's, Sam's Club and finally at Wal-Mart where we spent the night. It looks like tomorrow is supposed to be a cool rainy day, so we are in no rush to get to Hillsbourgh River State Park for our  3 days of canoeing and biking.