A view from the Visitor Center Fire Tower, shows why it's called a prairie.
A hot day and some sandy trails got Peggy in her complaining mode, also on our 6 mile round trip ride we found that the visitor center was closed and under construction. The view of the Florida Prairie was cool but we saw no Buffalo in sight.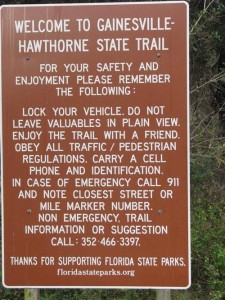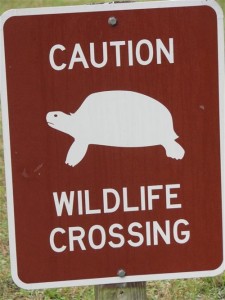 The weather report for Wednesday was warm 81oF by noon and a light rain in the late afternoon. So we left early to enjoy the bike trail before it got too hot.
The 11 mile round ride from Rochelle included some actual hills which challenged Peggy but didn't stop her.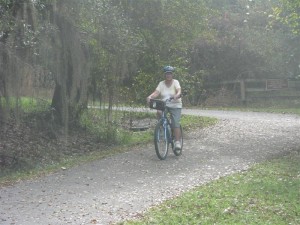 She likes the nice downhill coasts after the uphill's. After we laughed at the Wildlife Crossing sign above, guess what we saw going across the bike trail.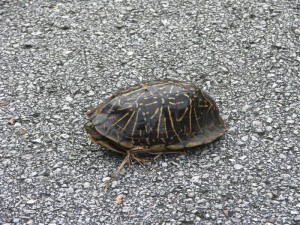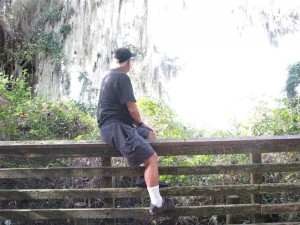 I took a look at the view back toward Paynes Prairie Campground from the Alachua Lake Overlook.
The picture below is what I was looking at.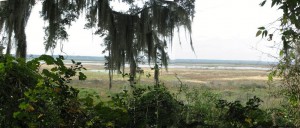 I posted a map of this portion of our trip in my last blog. We are currently at #10 and tomorrow morning we will leave for Silver Lake, #12. This place is pretty popular and convenient to the 46 mile long Withlacoochee State Bike Trail and on a lake which is a wide spot in the Withlacoochee River. So this will allow us to canoe & bike and use the bike trail to set up a shuttle.
I hope we can snag a site before the weekend. They do not take reservations in this State Forest campground and if they enforce the 14 day limit we may get a site.