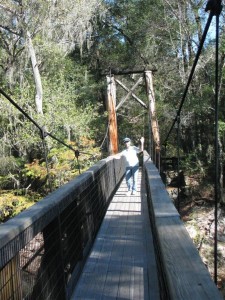 We left Ocean Pond on Sunday morning about 9 AM for a short 35 drive to Oleno State Park. Over the years we have camped here at least 4 times.
When we were younger we did some long bike rides but today with the soft sand and roots on the trail Peggy decided 3 miles was enough and took a short cut back over this narrow walking bridge which was build by the CCC in 1935.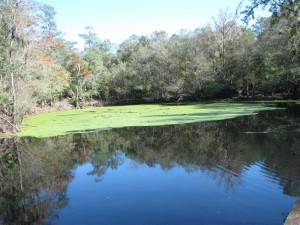 The trail along the Santa Fe River goes around the end of the river where it disappears into the ground for 3 miles before reappearing downstream at River Rise.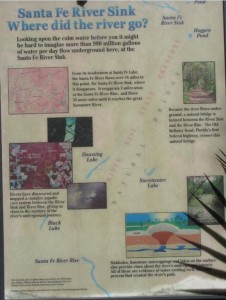 This sign explains it. The river stops here.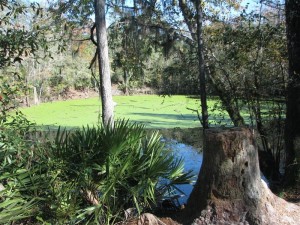 Our favorite place to canoe is at the nearby Ichetucknee Springs State Park. It's about 15 miles away but you don't want to go there in the summer when the 3 mile long river is full of swimmers floating on inner tubes. It's best to stay away on warm weekends also, so we paddled on Monday. We saw 5 kayakers and 2 canoes the entire day.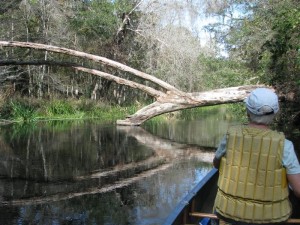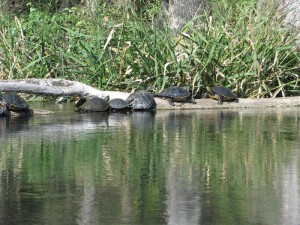 We drove our RV to the last take-out where they have a little parking lot and access to the river. It's about 13 miles from Oleno. I noticed that there is now a 8' wide paved bike trail that parallels the roads the entire way. It would be a long bike ride and too bad the trail isn't away from the road. Bike Trail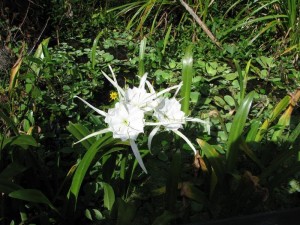 We saw lots of Egrets, Herons and other birds plus more tame turtles than I had ever seen anywhere. A few jumped in but most just sat there and kept an eye on us.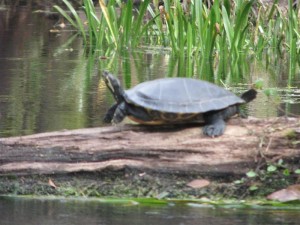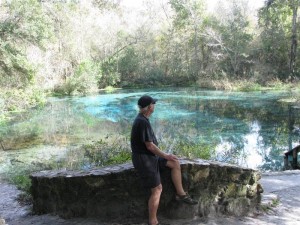 It took us about 1-1/2 hrs. paddling against the current to get to the head of the spring and less than an hour to paddle back.
Temperature was in the mid-70's and partly cloudy.
We are now at #9 on my planning map and tomorrow we move about 40 miles south to another Florida State Park, Paynes Prairie. It's just south of Gainesville and is a nice park with several different choices of bike trails.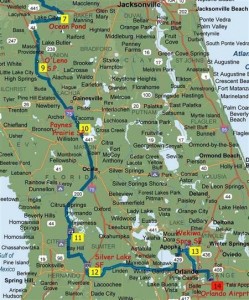 One note about Florida State Parks, there is no discount for being old unless you are a FL resident and don't bother trying to get a site on the weekend without making reservations in advance. The parks south of Tampa are usually booked 11 months in advance. Those in the North maybe only a few weeks in advance.